BackSafe system aims to reduce backup injuries, deaths
In addition to a dash-mounted screen used by the driver, the system includes a handheld control for the spotter
---
The idea for the Guardian BackSafe system emerged from tragedy.
In July 2009, a 79-year-old woman was killed when she walked out of her backdoor and was crushed by a St. Paul (Minn.) Fire Department ambulance.
The entire department was distraught by the tragedy and one firefighter-paramedic decided there had to be a better way. Jovan Palmieri eventually developed the wireless communication system called BackSafe.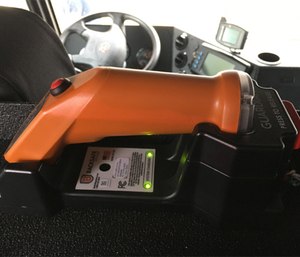 Palmieri, who is now a captain/paramedic, turned to the engineering students at Minnesota State University-Mankato to help develop a prototype.
BackSafe is a wireless communication tool between the driver and the spotter that uses audible signals and flashing lights.
In addition to a dash-mounted screen used by the driver, the system includes a handheld control for the spotter. Safety features on the hand control include flashing lights for visibility and ease in locating the device and a dead man's switch. Should the spotter slip and fall behind the rig, the driver would be alerted right away to stop backing up.
The system can be factory installed into a new ambulance or rig or retrofitted into a rig already in use by the department.
Rather than using a camera to notify the driver of proximity, BackSafe relies on audible and visual cues to make the spotter more effective and create fewer distractions for the driver.
Bringing things full circle for Palmieri, BackSafe donated one of their systems to the St. Paul Fire Department last fall. 
The MSRP for the Guardian BackSafe system is $2,400.