Q&A: Detailing the ReIGNITE Virtual Conference
Chief Gary Ludwig explains how the IAFC plans to engage members and provide networking during #VirtualFRI
---
This year has generated unparalleled challenges for the fire service, and one of these impacts is in-person conferences where firefighters connect and train. Many public safety events that have been postponed or canceled due to concerns over COVID-19 spread. The limitations on in-person events have forced many groups to reimagine how to provide training and networking opportunities.
The IAFC's flagship conference, Fire-Rescue International (FRI), was not immune to these challenges; however, as immediate past president Chief Gary Ludwig explains, the association has worked diligently to develop a new event, the ReIGNITE virtual conference, that will continue to provide outstanding education while affording firefighters the opportunity to connect.
FireRescue1 spoke with Chief Ludwig to learn more about the event.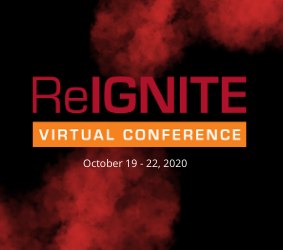 FireRescue1: What was the driving factor in canceling the in-person FRI event?
The most important priority is the safety and health of our members, staff, exhibitors/sponsors, speakers and attendees. At the time the Board of Directors decided to cancel FRI, Phoenix, Arizona, was a hot spot, along with Florida and some other areas of the country. It is undoubtedly the IAFC's largest conference, and it a tremendous economic loss. Our focus remains on the health and safety of all involved.
What will that transition be like for you, as outgoing president – having this moment occur in a virtual environment?
It is not what I ever thought it would be. I thought I would have an opportunity to make a final speech in front of the membership and attendees at the general session, visit many wonderful people in the division lunches and thank them for the last year, attend my presidential celebration, and just network and fellowship with so many phenomenal people in the fire service. Unfortunately, it was not meant to be, but I still consider myself blessed.
I served as IAFC president during a crucial time. I decided to run for office to make a difference and not be a seat-warmer. The pandemic challenged me in so many ways to make an impact at the national level, and I hope I delivered.
I am blessed that everyone in my family is healthy. I think about all the firefighters, paramedics, EMTs, police officers, nurses, doctors and other medical personnel who have contracted the coronavirus in the performance of their duties and died. So when I look at the minor inconvenience I will experience by transitioning my presidency during a virtual environment, I must reflect on all those who have suffered much greater than myself and the families who remain of those who were lost. Our thoughts and prayers should be for them first.
[The IAFC installed its new officers during Part 1 of its #VirtualFRI event on Aug. 21.]
The big event is now the ReIGNITE Virtual Conference in October. What is the IAFC doing to enhance the online learning experience?
The ReIGNITE Digital Conference will offer education and exhibits – now via the virtual marketplace that was traditionally held during the in-person FRI event. The REIGNITE Conference will be offered complementary to all and will offer the following:
75+ hours of programming, livestreamed and on-demand.
Extended access for six months to education and resources beyond the traditional in-person experience. You'll be able to go at your own pace and customize your learning journey on what's essential to you and your department right now.
Timely topics with a Q&A component: Information will continue to evolve up to the conference, including experts who will address the challenges of COVID-19 and recent civil unrest.
A virtual marketplace that's a one-stop-virtual-shop where you can meet with solution providers who are leading the way in the industry.
Transcripts of attended sessions.
New collaboration opportunities that make it easier to find and connect with attendees in a digital setting.
Will there still be opportunities to network and, if so, how?
The virtual platform will offer a variety of opportunities for attendees to network:
Discussion boards during the livestreamed events
Presenter Q&A sessions
Video chat directly with vendors in the Virtual Marketplace to learn about products and services and ask questions, just as you would do face-to-face
Specialty chat rooms offering different experiences so you chat with others in specific topic areas related to work or hobbies.
The IAFC is exploring several different networking platforms. One allows attendees to jump from table to table in more free-flowing information discussion. More information will be shared as these exciting events are developed!
Is the educational/speaker lineup the same as the in-person event or was anything new added/removed to accommodate the new format?
All the speakers who were lined up for the in-person event were contacted by the FRI Program Planning Committee to determine which sessions could translate best into the virtual world. We are working with those speakers to bring their programming to the virtual platform.
The IAFC's Officer Development Program (ODP) will not be offered for the ReIGNITE Conference; however, several sessions that were part of the ODP program will be offered as general education. The IAFC is developing a virtual delivery model for the full ODP Platform so participants can continue with their important ODP education.
Can you describe the benefits of holding FRI in conjunction with Fire-Rescue Med (FRM)?
EMS response is a large and essential part of the overall fire service, so it makes sense to align access and programming during this week. It also offers an expanded audience for both conferences, as those who typically attend FRM may choose to now participate at FRI since they are happening together and vice versa.
Why should people be excited about ReIGNITE?
We are all adapting to our changed circumstances, and ReIGNITE will offer attendees and industry partners a platform to stay connected and engaged. ReIGNITE will bring thousands of current and emerging leaders from all over the world, virtually together, for a week of meaningful, thought-provoking conversations and education, focusing on the amazing work of fire and EMS response to current events.
Some highlights:
Get important education you need now, complementary due to the support of our sponsors and exhibitors.
Learn at your own pace with a flexible schedule and 24/7 access on your desktop or mobile device.
Hear from engaging keynote speakers.
Participate in the virtual marketplace.
Connect with colleagues, IAFC leadership and vendors during a time where those opportunities are limited – more people online than attend in person and a broader international audience.
Learn more about the IAFC's ReIGNITE Virtual Conference at the association's FRI resource page or FireRescue1's FRI resource page.