Fire chief subpoenaed to testify in front of grand jury investigating Peyton Morse's death
The move could signal that criminal charges are being considered in the death of the 21-year-old who had a medical emergency at New York State Fire Academy
---
By Leila Merrill
WATERTOWN, N.Y. — Watertown Fire Chief Matt Timerman has been subpoenaed to testify in front of a grand jury investigating the 2021 death of Watertown Firefighter Peyton Morse, 21, after a training incident at the New York State Fire Academy.
The firefighter's father, Dave Morse, has also been subpoenaed, WWNY reported. Timerman and Morse confirmed that they both will testify next Tuesday in Schuyler County.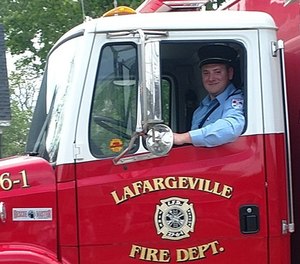 According to WWNY, the fact that a grand jury is seeking testimony may indicate that criminal charges are being considered.
State safety experts' report found no violations of health or safety standards, even though other trainees testified that they saw instructors yelling at Morse as he lay on the floor not breathing.
Timerman has been "definitely angry and frustrated" that the Public Employee Safety and Health Bureau, or PESH, found that the state fire academy did nothing wrong when Morse suffered a medical emergency during a training exercise there on March 3.
Morse's parents have also been critical of the Fire Academy. According to WWNY, "[Morse's parents] believe it's an environment of hazing and bullying, and that their son is the victim of a crime."
In July, Gov. Kathy Hochul said she would be "happy to take a serious look" at the circumstances surrounding the firefighter's death, WWNY reported.
Related news