'I learned a lesson that may never happen to someone in a whole career of service'
Following the ongoing news about Peyton Morse's death, one firefighter reflects on his personal experience with drills gone wrong
---
By Thomas DiCicco
It is with a great deal of sadness that I have followed the story of Firefighter Peyton Morse, especially now that he has passed away, it is even worse.
Since none of the actual facts surrounding this particular accident are public, we can only speculate as to what could have gone wrong. When one hears of a breathing apparatus training incident (from public report), we all know what these are like, and some of you may have had the same gut-wrenching feeling that I do.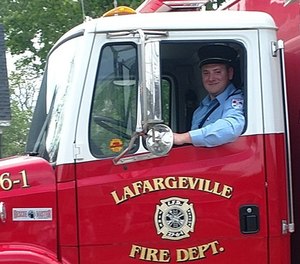 I have been a volunteer firefighter since 1970, and I am still active as a firefighter today. I will speak only from my experience over the many years of service, and what I say here has nothing to do with the unfortunate accident that has taken place.
I had an eye-opening experience with these types of drills. We were inside an active fire training building. I was a new firefighter on a hoseline crawling along in a very low profile, and my air completely stopped. Fortunately, I was able to feel for the bypass valve (the "red knob" for you old-timers like me) on the regulator and found that it turned to the off position by rubbing on something (yes, the lock ring was loose). This was not before a moment of panic and incorrectly pulling my face mask off.
Somehow I decided it was easier to breathe the smoke for a few breaths than to have a complete vacuum in the facemask, unable to get any air into my lungs. As I said, this was not a mask training session but a firefighting exercise, so we can see how accidents happen and the need to be trained to react properly. I am still to this day ashamed to admit what I did by removing the mask. I learned a lesson that may never happen to someone in a whole career of service.
But, what about the breathing apparatus training sessions called "mask confidence"? These are designed to give a new firefighter the feel of working with a mask on while navigating various obstacles in the process. There is nothing wrong with this type training, but sometimes there are overly aggressive instructors that go above and beyond to intimidate the new firefighter, "hardening them up," they might say. How about the instructor who purposefully turns off the air tank valve while the new firefighter is trying to get out of or around an obstacle? With the firefighter's mask "blacked out," they never even know that someone is turning off their tank valve. This exercise requires immediate intervention if the firefighter becomes distressed and unable to breathe while they may be entangled in the obstacle. This is a nightmare scenario even for the experienced firefighter.
Over my many years, I have always made sure to have the ability to get to my mask and the valves in an emergency.
One other scenario comes to mind: We were training for a confined space team. The drill was to crawl through an 18-inch sewer pipe that was 30-feet long while wearing a mask. In order to do this, you had to remove the pack from your body and push it in front of you. I realized the risk in this drill, because if anything happened to the air supply, you could not reach your regulator, as your arms were extended straight out with no room to make it back to the regulator. You wouldn't even be able to remove the mask. This was back in the day when valves were located on the regulator near your chest area and not as they are today on the facepiece. Nevertheless, I was very careful to make sure all the valves on tank and regulator were not rubbing against anything. My "lesson" from the past!
I am praying that this accident shows what really happened and that steps are taken to minimize what I will call "self-inflicted" risk by overly aggressive training scenarios or instructors.
Related content:
About the author
Thomas DiCicco is an active volunteer firefighter in Long Island, New York, with almost 40 years of service. During his career, he has served with two fire departments, starting in 1970 with the South Farmingdale Fire Department. He served there for 20-plus years, achieving the rank of captain in Rescue Company No 1. DiCicco later relocated to another part of Long Island, where he joined one of the busiest volunteer departments. At this department, DiCicco became part of a newly formed Confined Space and High Angle Rescue Team. On 9/11, that team was activated to respond to the World Trade Center. DiCicco currently serves as an exterior firefighter and driver/MPO.