Firefighters experience near misses at marijuana grow facilities
More firefighter near-miss reports are expected from these facilities with unique hazards to employees and firefighters
---
By Dana Brown
In late 2018, an FDNY firefighter was hospitalized with critical injuries suffered at a marijuana grow lab fire in the Bronx. Sadly, this wasn't the first FDNY firefighter to fall victim to injury from a marijuana grow lab. In 2016, FDNY Battalion Chief Michael J. Fahy died when a piece of roof debris fatally struck him after an illegal grow house exploded. Fahy was standing across the street from the structure.
Grow lab hazards for firefighters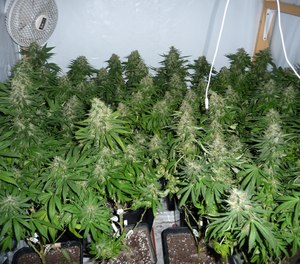 Firefighting is an inherently dangerous job, and marijuana grow labs bring additional, unique hazards, such as vast electrical systems, flammable gases, flammable liquids, oxygen-deficient atmospheres, toxic inhalation hazards, and homemade security systems that may include illicit booby traps. More illicit grow labs and hash oil extraction sites coming to fruition likely equates to more near misses for firefighters.
Responders should think of these buildings as a wolf in sheep's clothing. Things are not always what they seem from the initial size-up. It will take time on the job to gain some recognition-primed decision-making (RPDM) skills regarding these types of fires. (Note: RPDM is the ability to make quick, sound decisions when facing complex situations, with a multitude of problems, based on past experiences and outcomes.)
It is predictable. The use of carbon-based fuels and excessive amounts of heat and energy create, in addition to the chemical processes for fertilization, a unique and new challenge to first responders. As the use of marijuana continues to grow, the frequency of these types of fires will also increase.
Firefighters are "getting behind the tailboard"
"Getting behind the aircraft" is a term used in military aviation that means "you are allowing events or the situation to control your actions rather than the other way around. [It is] characterized by a constant state of surprise at what happens next" (FAA Aeronautical Decision Making (AC 60-22).
Marijuana, and processes used to grow, cultivate, extract and refine it, put first responders in a new playing field. The movement is getting in front of decision-makers, and firefighters (through no fault their own) are "getting behind the tailboard."
Near misses related to marijuana grow labs
Firefighters can seek out Near-Miss Reports or read case studies to better educate themselves on high-risk low-frequency incidents. Recently, the following two reports were published at www.FirefighterNearMiss.com.
"During an annual scheduled inspection of a marijuana grow facility, the inspector was performing the duties of that office and going through the prescribed checklist with the Marijuana Compliance Officer of that business. During the inspection, the inspector and the compliance officer were discussing the chemical processes used daily, and everything appeared to be normal. About 90 minutes into the inspection, both the inspector and the compliance officer started to feel lightheaded and nauseous to the point that they both decided to leave the building and go outside for fresh air. After several minutes out in the fresh air, they both went back in to check the carbon dioxide (CO2) distribution system and found a small leak in the feeder line to the unit. This leak was producing close to 35,000 ppm of CO2 in the facility, which is 5,000 ppm shy of the IDLH toxicity threshold. The inspector called for hazmat, and they were able to secure the leak, write an order to comply and safely return the facility to the owner."
Read the entire report at Marijuana Grow Facility Overcomes Inspector.
"Once the fire was out and under control, it was noted by the safety officer, who arrived after the fire was declared as 'out,' that all companies needed to evacuate the building immediately. During the 360, it was noted by the safety officer that the house had physically moved off the foundation. The sill plate was 8-12 inches off center, and there were visible fissures in the walls of the house. This house was ready to collapse at a moment's notice. Further investigation revealed that the fire was started as a result of a butane hash oil extraction that had gone wrong. Butane hash oil is extracted from a process of utilizing butane to harvest the THC of a marijuana plant to make a new synthetic type of drug."
Read the entire report at Butane Hash Oil Explosion Compromises House.
Firefighter education on grow facility operations
There are many additional opportunities for firefighters to educate themselves about these unique operations. Due to the states' early legalization of marijuana, some Colorado and Washington firefighters have become subject-matter experts in this area because they were some of the first to face this new type of fire. Review lessons learned from the trailblazers themselves. Attend conferences, such as the IAFC's International Hazardous Materials Response Teams Conference, with speakers who teach on hazards faced at marijuana grow labs and butane hash oil extraction sites. Seek out consultants and invite them to your fire department for training.
Through IDLH Tactics, Assistant Chief CJ Haberkorn of the Denver Fire Department travels the country sharing lessons learned from incidents involving marijuana grow operations, butane hash oil extraction sites, and overdoses. Haberkorn notes, "The fire code cannot keep up with the new and evolving threats related to marijuana grow operations."
EMS response to marijuana calls
Along with the fire hazards, first responders will likely see an increase in EMS responses. Marijuana edibles are often the last to be regulated.
Specific to edibles, Haberkorn further notes: "In States like Colorado, where BHO extraction is legal, the regulatory process is subjective, and THC dose amounts are hard to determine concerning even distribution of tetrahydrocannabinol (THC) in the edible. To help understand this concept, think of making a batch of chocolate chip cookies. There is no efficient process to dictate that every cookie gets the same amount of chocolate chips. The same conceptual process with edible manufacturing exists. Marijuana Infused Product Kitchens (MIPs) are just like an ordinary bakery and there is no single way to isolate the same amount of THC per dose. Undefined and unknown hazards like these are where the problem lies, and the corrective action by the Marijuana Industry is in the form of precautionary statements. These statements warn against taking more than the recommended dose, knowing that the overage could result in altered mental status, that may result in significant injury, illness, or possibly death."
A growing issue
Legalization of marijuana is a hot button topic with strong advocates both for and against. Separate from the debate, marijuana grow operations will only continue to be a hazard that more fire departments must identify and address.
About the Author
Dana Brown has 20 years with the Houston Fire Department and is a captain, currently assigned to the Hazardous Materials Response Team. She holds dual MBAs and is a Ph.D. candidate. Brown is an aviator and veteran of the U.S. Army and flew the AH-64D Apache helicopter for the 1-149th Aviation Attack Battalion in Texas. Brown has a decade of experience in search and rescue and as a K9 handler. Currently, she is an International Hazmat and WMD Master Instructor for first responders. Brown also works for the IAFC's Near Miss Program as a reviewer, sits on the IFTSTA validation committee, and serves on the committee for NFPA 472: Standard for Competence of Responders to Hazardous Materials/Weapons of Mass Destruction Incidents.