How to educate your community about fireworks safety
Share these tips with your members and community to promote safe summer fun
---
Fireworks are a staple of summer festivals and Fourth of July celebrations, but with increased firework activity often comes increased firework-related injuries and firework-ignited fires. 
The Consumer Product Safety Commission (CPSC) estimated that about 10,000 people were treated at hospitals for fireworks injuries in 2019, and 12 people were killed by fireworks set off by themselves or others. An estimated 73% of those injuries occurred between June and July. Additionally, the NFPA reports that fireworks started an estimated 19,500 fires in 2018, causing five deaths, 46 injuries and $105 million in direct property damage. 
Fast-forward to summer 2020 and firework activity is not only increasing, but seemingly exploding (no pun intended), according to an NBC News report. Fireworks-related noise complaints increased by 2,000% in Boston over the last few weeks, while more than 1,700 fireworks complaints in New York City led Mayor Bill de Blasio to create a task force to crack down on the use of illegal fireworks. By comparison, there were only 21 fireworks complaints in the city during the same time period last year.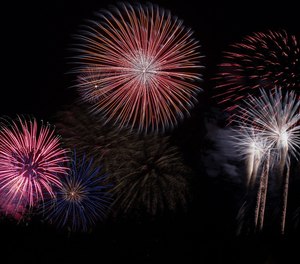 Some speculate the increased activity is related to the boredom of having to stay home during the COVID-19 pandemic, increased patriotic celebration as some areas begin to reopen after pandemic-related shutdowns, or even an abundance of special deals offered by fireworks sellers who had anticipated a dramatic drop in demand due to stay-at-home orders. 
Whatever the cause, it is important for firefighters, EMS providers and other public safety officials to promote awareness about fireworks hazards in their community and provide guidance for safely partaking in the summer fun.
Fireworks safety best practices
Share these best safety practices, as recommended by the U.S. Fire Administration and National Safety Council, with your agency and community members:
Leave it to the experts: The best way to avoid firework-related injuries and property damage is to not set off fireworks yourself, and attend a public fireworks display instead while practicing safe social distancing and other appropriate precautions
Keep away from children: If you do choose to set off fireworks in an area where it is legal to do so, never allow young children to handle them. Children under 10 accounted for a quarter of fireworks injuries recorded by the CPSC last year
Exercise supervision: Older children should only handle fireworks under close adult supervision. In total, persons under 20 made up nearly half of those injured by fireworks last year, and at least one unsupervised teen died, according to the CPSC
Stay alert: Fireworks should never be used by someone impaired by drugs or alcohol
Protect your eyes: Anyone using fireworks or who is nearby where fireworks are being set off should wear eye protection; more than 1,000 of last year's fireworks injuries were to the eyes
Protect your hands: Fireworks should never be held in one's hand. Hands and fingers were the most common part of the body injured by fireworks last year, with more than 2,000 reports
Light them outside: Fireworks should never be lit indoors 
Keep a safe distance: Fireworks should be set off at a distance from people, houses and flammable materials
Use common sense: Fireworks should NEVER be thrown or pointed at another person, or at a building, vehicle or animal
Don't overdo it: Only one fireworks device should be set off at a time
Keep an open space: Fireworks devices should never be lit inside of a container
Don't mess with faulty fireworks: One should not attempt to relight or handle a malfunctioning firework device
Ensure safe disposal: Spent and unused fireworks should be soaked in water for several hours before being discarded
Be prepared: A bucket or container of water should be kept nearby in order to extinguish fireworks that don't go off or in case a small fire is started
Avoid sparklers: Sparklers should not be used, as they can easily ignite clothes and cause severe burns. Sparklers burn at about 2,000 degrees, and accounted for nearly half of fireworks injuries to children under 5 in 2019, according to the CPSC. Safe alternatives for children include glow sticks, streamers and confetti poppers
Keep it lawful: One should never purchase fireworks illegally, use illegal fireworks or set fireworks off in an area where it is not legal to do so
In addition to these tips, be sure to remind community members to keep a safe social distance while viewing public fireworks displays. Have a safe and happy summer!