Sheriff: Ax-wielding man looking for his cat disrupted firefighters
The man was cited after reportedly re-entering a burning building in search of the cat and confronting law enforcement while holding two axes
---
By Laura French
LA PINE, Ore. — A man wielding two axes and looking for his missing cat was cited after disrupting firefighters battling a fire, an Oregon sheriff's office reported. 
Eddie Newingham reportedly re-entered the burning building while looking for his cat and became aggressive with law enforcement officers while holding two long-handled axes, according to The Bulletin.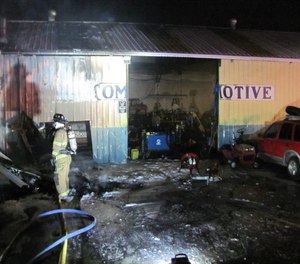 Newingham's behavior forced La Pine Rural Fire Protection District firefighters to temporarily stop fighting the blaze, according to Deschutes County deputies. He eventually dropped the axes and was cited for interfering with firefighters. 
The fire at the towing company building where Newingham is an employee is believed to have been started during welding repairs on an RV beside the shop, the fire department reported. The RV, several vehicles inside the shop and the west half of the building were engulfed in flames.
Deputies reported they never found Newingham's cat at the scene.