NY judge rejects unions' bid to keep some FF, police disciplinary records secret
A state Supreme Court justice ruled against the Buffalo fire and police unions, who argued that records involving unsubstantiated and pending allegations should not be released under new transparency laws
---
Aaron Besecker
The Buffalo News, N.Y.
BUFFALO, N.Y. — A judge on Tuesday rejected a bid by Buffalo's police and fire unions to keep parts of officers' and firefighters' disciplinary records secret.
State Supreme Court Justice Frank A. Sedita III ruled changes to the state's Freedom of Information Law specifically allow the release of the types of records –unsubstantiated and pending allegations – the unions tried to block from release.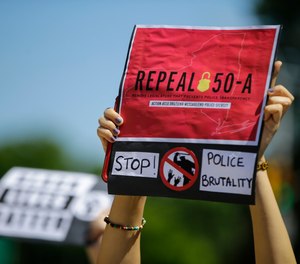 Sedita rejected arguments from attorneys for the Buffalo Police Benevolent Association and Buffalo Professional Firefighters Association, Local 282, who the judge said had been seeking a "blanket prohibition" and a "pre-emptive strike" in their attempts to block the release of records involving unproven allegations.
The unions' attorneys argued it would violate members' constitutional rights if such information was disclosed.
Sedita said his ruling does not automatically mean that all police disciplinary records will be released in the future. There are administrative processes for the information requests and government employees tasked as Freedom of Information Law officers must follow existing legal requirements, Sedita said in his ruling from the bench.
The court "is not mandating or authorizing public release of any such records," Sedita said.
Sedita lifted the temporary restraining order issued in June.
At issue is a change in state law earlier this year, a law commonly referred to as "50A," that made governments no longer able to keep secret the disciplinary records of police officers and firefighters when requested under the state's Freedom of Information Law. Advocates for transparency saw the change in law – prompted by nationwide calls for police reform after the killing of George Floyd by police in Minneapolis – as a victory.
The police and fire unions filed a lawsuit in July to block the city from publicly releasing police officers' and firefighters' disciplinary records that involve unsubstantiated allegations, pending allegations and matters that were subject of confidential settlement agreements.
Sedita issued a temporary restraining order soon after the lawsuit was filed. The unions want the judge to grant preliminary and permanent injunctions that prevent the city from releasing such information.
Last month, Sedita granted a formal role in the lawsuit to a group of 27 local and national news organizations, including The Buffalo News, who argued their legal interests in the case weren't represented by the city. The judge denied the New York Civil Liberties Union's bid to become a party to the lawsuit.
In court papers filed after the Sept. 16 decision, the NYCLU has asked the court to allow its attorneys to make new arguments supporting its request.
Sedita's decision also covered a similar lawsuit filed by the Town of Tonawanda police union against town officials. That union's request to block release of records also was denied.
———
©2020 The Buffalo News (Buffalo, N.Y.)
McClatchy-Tribune News Service