Senate panel considers wildfire bill, but too late for 2020 season
Bipartisan Emergency Wildfire and Public Safety Act addresses forest management, as Senators highlight wildfire destruction and need for change
---
"Apocalyptic. That's the word that kept reverberating through my mind as I traveled 600-plus miles," Senator Jeff Merkley (D-Ore.) told reporters this week. "Utter destruction. And we're going to have to do a lot of help for those families."
A landmass the size of Rhode Island and Connecticut combined has burned this year, flattening entire communities in the Pacific Northwest.
The Emergency Wildfire and Public Safety Act was before the Senate Energy and Natural Resources Committee on Wednesday, Sept. 16, as fire had scorched over 5 million acres and led to the evacuation of 10% of Oregon's total population where Merkley said climatic conditions had created a "blowtorch" effect into valleys.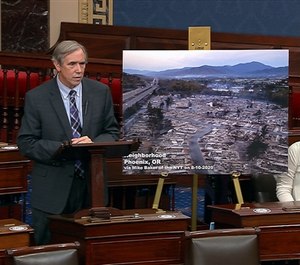 Thoughtful and admirably bipartisan, the bill largely addresses forest management, but the time for enhancing fuel breaks or a new training center on drip-torching has passed. Forest management with second-growth forest just pose "fires waiting to happen," Merkley said. Thinning and prescribed burns are broadly seen as a solid mitigation measure, but the bill does nothing for the thousands of families displaced and dozens killed to date.
Western delegations paint dire picture for colleagues
"Let me be blunt. California is on fire," Senator Dianne Feinstein (D-Calif.) told the Senate committee.
The traditional fire season was just underway, but already, 2020 has seen five of California's largest fires in history. Apart from reported manmade causes, Feinstein recognized that lightning sparked many of the major fires and pledged to learn about it in hopes that "we might be able to do something about it, if anything."
Senator Steve Daines (R-Mont.) said at the legislative hearing that policymakers could debate the extent to which different factors contributed to the wildfires, but all should agree on the need for bold legislation. "The smoke is literally starting to cover our country, and our way of life as we know it is in danger," he said.
"This is a problem with serious consequences," Rep. Doug LaMalfa (R-Calif.) said separately on the House floor. "If there is a time for this body to pass a comprehensive force repackage, it is now." LaMalfa and California Democrat Jimmy Panetta offer the companion bill to Feinstein-Daines in the House.
Hundreds of thousands of acres across California and Oregon, but also Washington, Montana, Colorado and Idaho, have burned. Senator Jim Risch (R-Idaho) blamed "years of insufficient forest management" for turning the West "into a tinderbox." Fires in his state were not as bad as elsewhere, but "it does seem to cycle around the states" in a sort of rotation around the West.
Past legislation already helping suppression support
"This isn't a new story to us," Senator Maria Cantwell (D-Wash.) said at the hearing. "When people start saying, 'This is the biggest fire ever in the history of our state,' that's where we were several years ago." Cantwell authored a law giving and encouraging more tools to those combating wildfires, including personnel accountability, unmanned aerials and smoke forecasting.
U.S. Forestry Service Deputy Chief Chris French credited her bill for agencies' work on ground-based image technology, enabling distant observation of shifts and changes in fires which was already helping to better direct resources, and a real-time infrared capability placed on an RC-26 aircraft based in the 141st Air Refueling Wing in her state. Smokejumpers and materials are being dropped more precisely with better technology based on better data and tracking thanks to her law.
Related legislation is already in the works among House counterparts. Speaker Nancy Pelosi (D-Calif.) indicated to reporters days after the subcommittee hearing – not a mark-up of the bill for reporting to the full Senate – that two committees were working on legislation to establish research institutes to study the impact on smoke on public health. "There is a direct connection," she said. Draft legislation, like Feinstein-Daines, would upgrade the electrical grid with right-of-way clearing, and encourage technologies to detect ignitions.
Regional smoke conditions risk public health
Air quality is a major concern, even in the nation's capital where a drifting smoke lightly hazed the sky. Showing a color-coded map of Puget Sound, Washington, with "very daunting health situations" created by the fires, Cantwell indicated a large region blanketed by smoke deteriorated air quality.
Back in Oregon, broadly regional, prolonged respiratory issues pose a massive public health hazard. Rep. Kurt Schrader (D-Ore.) said his state currently had the worst air quality in the world, "enveloped in absolute dense smoke for one week."
As to criticisms of prescribed burns, Cantwell acknowledged people resisted nuisance smoke, but "I guarantee on a prescribed burn they'd rather have smoke in March than a whole week or a whole month of forecast smoke."
"People are understanding," French said, adding that fire should be reintroduced with the added benefit that agencies could learn from smoke travel and predict risks to communities and regions when unplanned, catastrophic fire occurs.
French also told senators the "entire interagency wildland effort is stretched to its limits."
Rep. Scott Peters (D-Calif.) questioned referring to wildfire "season," given a year-round threat, adding, "We owe it to every single firefighter and first responder to act on this issue now."