Ruling: State not bound to protect property from wildfires
The ruling said the state doesn't have a legal duty to protect property from naturally caused wildfires
---
By Paul Davenport
Associated Press
PHOENIX — A court ruling in lawsuits stemming from a fire that devastated a rural Arizona community and killed 19 elite firefighters says the state doesn't have a legal duty to protect property from naturally caused wildfires.
In fact, the Arizona Court of Appeals said Thursday, finding that the state's firefighting efforts include a duty to protect private property would require the state to act as an insurer and could cause "perverse incentives" prompting public officials to try to shield the state from liability by simply doing nothing to fight wildfires.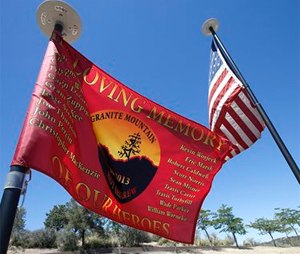 "Such a result is contrary to the overriding needs of the public," Judge Kent Cattani wrote in the ruling by a three-judge panel.
The Court of Appeals ruling upheld a trial judge's dismissal of two suits filed against the state and its forestry division by homeowners whose property was destroyed.
The lightning-started 2013 Yarnell Hill fire destroyed approximately 125 homes in Yarnell and nearby communities about 35 miles south of Prescott.
Nineteen members of the Granite Mountain Hotshots firefighting team died in the wildfire, but the lawsuits involved in Thursday's ruling only dealt with private property.
The homeowners in two suits, including a class-action one, contended the state negligently managed firefighting efforts in the fire's early days, negligently failed to protect Yarnell and negligently failed to provide a timely evacuation notice.
But the trial judge and the Court of Appeals agreed with the state's argument that it didn't have a duty to protect property when it undertook management of the wildfire.
Craig Knapp, an attorney for the homeowners, said they'll ask the Court of Appeals to reconsider its ruling and, if it doesn't, then appeal to the Arizona Supreme Court.
Knapp said the Court of Appeals overlooked that the state voluntarily assumed a duty to the residents by taking on tasks specifically to protect Yarnell. The state should be held "liable as any private citizen for any negligence that it commits when it decides to act," Knapp said in an email.
The Court of Appeals ruling said homeowners' attorneys urged the Arizona court to adopt a 2001 Alaska Supreme Court ruling that said that the state or its local governments assumed a duty to protect people and property threatened by wildfires by choosing to fight fires.
However, the Arizona court noted that Alaska's legislature in 2003 scaled back the state's potential liability under the 2001 court ruling, with lawmakers saying that forestry and firefighting principles should dictate fire suppression decisions, not possible liability.
"This is not to suggest that the state forester should ignore the fire's potential impact on nearby properties and communities as part of the statutorily-directed assessment of what wildfire suppression services are in the best interest of the state," Cattani added.