The new 'War Years': The unthinkable has become commonplace
The challenge now is how to show up every day, with the same energy, and resist the threats of indifference and complacency
---
The 1970s fire service was deemed the "War Years" in the Northeast, especially New York City. World War II-era and later apartment buildings and the tracts of homes thrown up in the 1950s were burning like there was no tomorrow.
In 1978, there were 7,710 civilian fire fatalities in the United States. Since that time (with the exception of 2001), the civilian fire-death rate has been on a steady decline, down to 3,500 in 2020. What's more, the United States population increased nearly 50% between during the same timeframe, as the fire death rate decreased by more than 50%. We were doing something right!
We met the fire problem head on with fire safety education, smoke alarms and residential sprinklers. We didn't have the internet and social media to spread our message. No, these were hard-fought battles to spread the word, one classroom and one public meeting at a time. We used face-to-face "street fighting" with approaches like the "friendly monster" and catchy phrases developed by the NFPA and others – "Stop, drop and roll" comes to mind. We won many of those battles and ostensibly saved tens of thousands of lives.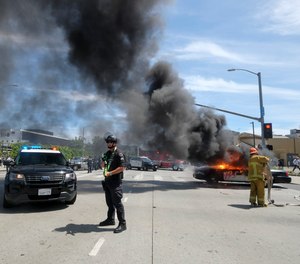 The new "War Years"
We may have left the original War Years behind us, but we now find ourselves square in the middle of a new war, one where the unexpected has become, well, expected, and the unthinkable feels more plausible every day.
In the current War Years, fire and EMS department responses to community unrest is now commonplace:
2014: Ferguson, Missouri
2015: Baltimore
2020: Minneapolis
2021: Washington, D.C. – U.S. Capitol
2022: Akron, Ohio
No matter, we must not allow such strife to compromise our quality of service or make us jaded about the significance of our service to community. We need to be smart and keep our eyes and ears always open.
Further, while shootings and stabbings have long been "routine" aspects of our public safety responses, it is the mass shootings that have also become painfully commonplace. The once-low-frequency events like high-profile school and other mass shooting incidents have now become so common that they are replaced weekly in the news cycle. In fact, while I originally planned to share a snapshot of mass shooting incidents from the past year, the volume is too much for one article. Instead, I'll capture a 10-day snapshot of incidents where fire and EMS units responded, as documented by the Gun Violence Archive, a non-profit research group that defines mass shooting as four or more shot or killed in a single incident:
June 27: Charlotte, N.C. – 5 injured
June 29: Philadelphia – 4 injured
June 29: Jersey City, N.J. – 4 injured
June 30: Newark, N.J. – 9 injured
June 30: Allen, Kentucky – 3 dead, 5 injured
July 1: Chicago – 2 dead, 3 injured
July 1: Greenwood, Mississippi – 1 dead, 7 injured
July 1: Chicago – 4 injured
July 2: Haltom City, Texas – 3 dead, 4 injured
July 2: Clinton, N.C. – 6 injured
July 2: Corona, N.Y. – 1 dead, 3 injured
July 3: Mullins, S.C. – 4 injured
July 3: Tacoma, Washington – 4 injured
July 3: Manassas, Virginia – 4 injured
July 3: Surprise, Arizona – 3 dead, 4 injured
July 4: Richmond, Virginia – 6 injured
July 4: Chicago – 5 injured
July 4: Highland Park, Illinois – 7 dead, 24 injured
July 4: Boston – 4 injured
July 4: Kansas City, Missouri – 4 injured
July 4: Denver – 4 injured
July 4: New York – 4 injured
July 5: Rochester, N.Y. – 1 dead, 3 injured
July 5: Gary, Indianna – 3 dead, 7 injured
What is clear from the list is that, unlike the War Years of the 70s, these incidents are no longer solely concentrated in major metropolitan cities.
It is imperative that firefighters and paramedics in all cities and towns, working for departments large and small, take this issue seriously and prepare both in policy and operations now. We must embrace the all-hazards response model. There's no going back with the snap of a finger.
Training, training, training
NFPA 3000: Standard for an Active Shooter/Hostile Event Response (ASHER) Program provides a strong starting point and template for active shooter training and response. As firefighters and paramedics consider the responses to these mass-casualty incidents, it's important to include NFPA 3000 and the holistic (multi-agency) approach to response of these shootings. Get out in the field and practice more than just setting up red, yellow, green and black collection points. Work with law enforcement on everything from Rescue Task Force concepts to physically dragging full-weight mannequins and working your plan.
If you don't have a plan, start with NFPA 3000, then reach out to neighboring departments to establish plans that include law enforcement, hospitals, mutual-aid partners, and any other response or non-response agencies, departments or organizations you might need to include to build a robust response capability.
Of course, we all know that shootings aren't the only MCIs for which we must train. From the most recent Amtrak train wreck in Missouri to the Miami plane crash-landing and fire, not to mention the many motor vehicle collisions and the everyday structure fires we're running, we must be prepared. No matter the incident, our training for it must be real and it must be robust.
---

Learn more:
NFPA 3000: Preparing and training firefighters for active shooter incidents (eBook)
Download the eBook for a closer look at active shooter response efforts in the context of this first-of-its-kind standard
---
A broken system
With the challenges of running all-hazards response, in many areas amid a lack of staffing, our fire and EMS response system is broken. We are facing increasingly difficult incidents, but we continue to rely on a shrinking firefighting force that remains largely volunteer outside of most of our urban centers. This war has many of our paid firefighters and paramedics working hundreds of hours of mandatory overtime, with fewer and fewer people willing to commit to the volunteer hours necessary.
The firefighter training standards have continuously expanded, making the volunteer "weekend warrior" concept a thing of the past. The training is critical, but the expectations have simply become unsustainable for many existing or potential members. Further, our prevailing EMS response has evolved to, "you call, we'll transport," fueled by legal challenges and nervous risk management policies that deter or discourage EMS providers from simply saying no.
I reiterate the call to merge the responsibility for fire, EMS and 911 service under one federal parent organization. While we continue with the bifurcated federal tree, millions of dollars are siphoned to non-applicable programs and competing priorities, while we continue to argue amongst ourselves about the simplest of flow paths, going to the roof or not, and paid vs. volunteer. Yes, sometimes we're our own worst enemy.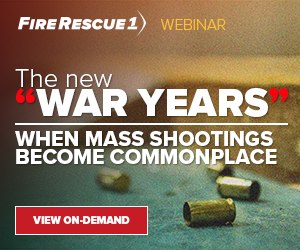 America is still burning
While it's not the same kind of War Years from the 70s, fires are still burning, shootings and stabbings are occurring daily, trains are still crashing, highway fatalities are at all-time highs. Throwing more and more firefighters and paramedics at the problem isn't going to fix the problem. Throwing more money at apparatus or stations isn't going to fix the problem. Turning a blind eye to overworked firefighters and paramedics isn't going to solve the problem. You and I as individuals aren't going to solve the problem.
It is our duty and solemn responsibility to bring calm to the chaos, to keep our eyes and ears open, and to watch out for each other. We need to understand our statutory and functional limitations and resist the "Superman complex" the sometimes throws us into untenable environments – fire or gunfire. Having a heads-up posture 100% of the time, expecting what was once unexpected, and working across the aisles with all of our response and recovery partners is our best opportunity to succeed and survive.  
From the terrorist attacks of 2001 to COVID and the myriad issues we face today, this is definitely not your grandfather's fire department. Regardless, the problem is at your doorstep whether you're ready for it or not.
It is easy to become angry, indignant or indifferent to the long hours worked. It is more difficult to rise above the fray – to come to work every day with the same energy you did as a recruit, to not become jaded and indifferent to the violence.
Our firefighters and EMS providers are overworked, overburdened and, in many cases, at a breaking point. If you need help, please reach out to talk to someone – anyone. We can and must work through this together.
While we as fire and EMS providers will not independently change the problems within our communities, we do have the responsibility of public trust to show up at the right time, at the right place, with the right people and equipment. This is the life we've chosen. What we can do is right here and now – show up, do our jobs, look out for each other, and protect the public!