The 117th Congress nears the rearview, public safety in focus
A look back and ahead as a tumultuous session turns to lame duck
---
History will remember the 117th Congress most notably for its dramatic first week in session, when the Capitol was breached during Electoral College proceedings on Jan. 6, 2021. However, it has also been a productive session for the public safety community as the nation emerged from pandemic.
Bills become laws
In an appearance to the U.S. Fire Administrator's Summit on Fire Prevention and Control, President Joe Biden highlighted new laws enacted during his first two years in office. Following on the CARES Act of 2020, the American Rescue Plan allocated $350 billion to help states and local governments keep first responders on the job. And federal firefighting grants were increased by $320 million.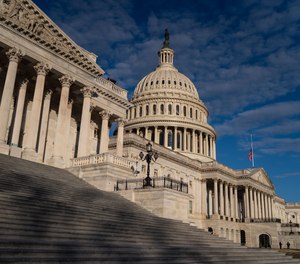 Having led the NIH's Cancer Moonshot project as vice president, Biden highlighted that cancer is a leading killer of firefighters, adding, "We're going to do something about it." Biden called on Congress to send him the Federal Firefighters Fairness Act, which would expand workers' compensation claims to certain work-related cancers to be handled by a new special claims unit at the Department of Labor to process quickly. The bill passed by the House in May, but the Senate has yet to act.
Biden also signed into law the Protecting America's First Responders Act, which extends benefits under the PSOB program to the families of firefighters.
Also of note, the president signed into law the TBI and PTSD Law Enforcement Training Act, which requires the Justice Department to develop crisis intervention training tools to recognize and assist police officers with TBIs and PTSD, but perhaps more notably, also requires the Centers for Disease Control and Prevention to study and report within two years on concussions among first responders.
Beyond these new laws, let's consider what could be in the queue for the lame duck session.
Passed the House, awaits the Senate
The Wildfire Response and Drought Resiliency Act was a much-touted measure by Rep. Joe Neguse (D-Colo.) that passed in July. The package of 50 separate bills was intended to be Democrats' "whole-of-government response" to water resources, mitigation policy, planning and related programming.
"There are two ways to reduce wildfire risk: thinning and controlled burning," Rep. Bruce Westerman (R-Ark.) said. "Not once does it mention thinning, but it mentions environmental justice 165 times," observed the former forester. "That should tell you what this bill is really about." Having passed by just 218-199 with two members voting against their party, so expect the bill to remain stalled in the 50-50 Senate.
Nonetheless, Neguse and Rep. John Curtis (R-Utah), who together founded the Bipartisan Wildfire Caucus, saw their Wildfire Recovery Act passed in September. The bill requires FEMA to cover at least 75% of the costs to suppress wildfires that qualify for a Fire Management Assistance Grant. "Local officials have said that this fix would allow them to speed up the recovery process and invest more money in mitigation efforts," said Rep. Eleanor Holmes Norton (D-D.C.), who managed floor debate.
Rethinking relief
The Disaster Resiliency Planning Act requires the Office of Management and Budget to establish guidance that requires federal agencies to incorporate natural disaster resilience into real property asset management and investment decisions. Specifically, the guidance must direct each agency to incorporate assessments of natural disaster risk information conducted by the agency, such as from vulnerability and other risk assessments, into real property asset management and investment decisions.
The Small State and Rural Rescue Act expands the duties of FEMA's Small State and Rural Advocate to include assistance for states in the collection and presentation of material in the disaster or emergency declaration request relevant to demonstrate severe localized impacts within the state for a specific incident.
The Expediting Disaster Recovery Act by Rep. Garret Graves (R-La.), a vocal and active member of both the Natural Resources and Transportation and Infrastructure committees on flood and disaster issues, seeks to fill a gap in the Stafford Act that leaves non-federal agencies footing the bill for certain activities by allowing FEMA to send 10% of estimated recovery costs to states upon a presidential emergency declaration under the law.
The bill would also expand FEMA's individual assistance to home repair and business. "This is designed to get recovery dollars where they are needed, to expedite recovery, to save money," Graves said of his bill to address "uncoordinated activities" of public and nonprofit agencies, which, he argued, "revictimize these people who have lost everything in these disasters."
Continuing response research
The Empowering the U.S. Fire Administration Act is sponsored by Rep. Ritchie Torres (D-N.Y.), in whose Bronx district 17 tenants died largely of smoke at the Twin Parks North West apartment building. The bill would allow the USFA to send investigators, engineers and code experts, researchers and others to visit fire scenes under specified circumstances to look not just for cause in coordination with typical agencies but also for broader systematic issues, then issue a public report to local, state and federal authorities with findings.
The DHS Medical Countermeasures Act directs the Department of Homeland Security to establish a medical countermeasures program for its own readiness as personnel and "working animals" work through a chemical, biological, radiological, nuclear (CBRN) incident. While the legislation is intended for DHS agencies like the Coast Guard, Customs and Border Protection, FEMA, Transportation Security Administration, and others, it could provide a model for states and interested jurisdictions.
The Supporting Research and Development for First Responders Act would designate the National Urban Security Technology Laboratory in Manhattan as the lead research facility for protecting first responders from terrorist threats (such as CBRN attack) and even cybersecurity of new and emerging response technologies the lab calls R-Tech.
Passed the Senate, awaits the House
The FEMA Improvement, Reform, and Efficiency (FIRE) Act from Sen. Alex Padilla (D-Calif.) is aimed at wildfire preparedness, in part by allowing public mitigation assistance to be used to move structures to a less risky location, to mandate a study on improving red flag warnings and other policies. A House companion bill by Rep. Zoe Lofgren (D-Calif.) sits in committee.
The PFAS Act, short for Protecting Firefighters from Adverse Substances Act, awaits House action. House Democrats have moved PFAS-related legislation repeatedly since retaking the lower chamber in 2019, and a bipartisan task force has been aggressive in the time since. The Senate bill seeks to minimize PFAS exposure in foam and PPE.
Resolutions don't need to pass both houses and won't become law, but the Senate has expressed itself in a few instances over the last two years. One bipartisan resolution by Sen. Steve Daines (R-Mont.) recognizes the over 16,000 wildland firefighters who worked the 2021 season and their families. Another, by Arizona's senators, honors the memory of 19 members of the Granite Mountain Interagency Hotshot Crew who died in the 2013 Yarnell Hill Fire.
Legislative refresher
Remember from government class that bills that don't pass both houses and become law must be reintroduced and the legislative process restarted from scratch. The last weeks of a session are not then the last opportunity to lobby, but to work through the closing gavel. Leaving aside the House, a Senate with any less than a 60-vote majority is just as reticent to act. Alas, the deliberative process.
Politicians are called lame ducks if they retain power after losing an election. Sessions of Congress similarly so, because while turnover seems small, the incentives to vote one's conscience unshackled by party pressures often lead to wild and less-predictable vote tallies.
Retirement is different from losing reelection, but the criticism is valid: Constituents have chosen someone else to represent them, so – especially if a party has lost its majority – lawmakers lost consent to make law. That said, members not returning for the 118th Congress can be expected to make a final push for legacy-making priorities to be included with the last trains to leave the station – public safety matters among them.
Additional resources
Read up with this explainer on the Public Safety Officers' Benefits program, and House passage in July of the First Responder Fair RETIRE Act, which awaits Senate action. Applications can be made online directly to the Bureau of Justice Assistance, which administers the program.