Petition calls for first responder hazard pay during COVID-19 pandemic
A Change.org petition launched by a Kentucky EMT has received nearly 25,000 signatures over the last two weeks
---
By Laura French
WASHINGTON — An online petition calling for hazard pay for first responders and healthcare workers during the COVID-19 crisis has received nearly 25,000 signatures since it was launched two weeks ago.
The petition was launched by an EMT from Kentucky and is addressed to President Donald J. Trump, the U.S. Senate, the U.S. House of Representatives and Kentucky Gov. Andy Beshear.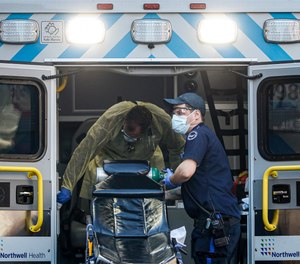 "First responders and healthcare personnel are on the frontline in the Coronavirus pandemic. We all put our lives on the line due to the high risk of exposure to the Coronavirus," the petition description reads. "I believe hazard pay is crucial to those of us who are first responders, medical professionals and healthcare workers. We are aware of the daily risks we take when heading to work. The Coronavirus pandemic is hazardous to not only healthcare workers but our families and friends close to us."
The petition has received dozens of comments from first responders, healthcare personnel, people with friends and relatives on the front lines of the crisis and other supporters. Many described their experiences at work and the impact the pandemic has had on them and their families.
"I'm a firefighter in the health field and emergency services in Houston, Texas. I'm also a father of three daughters," one comment read. "We try not to bring this home to our families. I understand the risk, it's my job, but I don't have the benefit to quarantine myself at home; we deal with patients 24/7 to help the citizens of Houston."
U.S. Treasury Secretary Steve Mnuchin recently told CNN that federal officials are considering including hazard pay for first responders and healthcare personnel in a potential fourth stimulus package to address the impact of COVID-19. President Donald Trump said on "Fox and Friends" Monday morning that his administration was looking to hazard pay for healthcare workers.
The third COVID-19 stimulus package passed last week and signed by the president on Friday includes several public safety and health provisions including funding for disaster relief, PPE and medications, and firefighter grants. It also includes stimulus checks for individual Americans, although Trump noted during his "Fox and Friends" appearance that some working on the front lines will not qualify for those checks based on their income.