NFPA, HFSC launch virtual campaign to address home fire risk
Home Fire Sprinkler Week aims to spread awareness about sprinklers and home fire safety through online resources
---
By Laura French
QUINCY, Mass. — The National Fire Protection Association (NFPA) and the Home Fire Sprinkler Coalition (HFSC) recently launched a virtual campaign to address the deadly risk of home fires.
Although the number of home fires has decreased over the years, the likelihood of dying in a home fire has risen since 1980, according to the NFPA.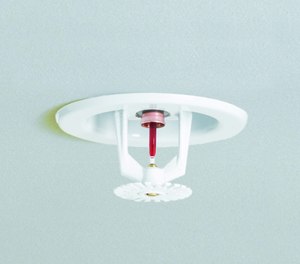 During the COVID-19 crisis, recent news reports have shown a correlation between stay-at-home mandates and an increase in home cooking fires. The NFPA and HFSC say this trend emphasizes the importance of the need to educate about fire safety, the organizations said in a press release.
The organizations noted that fire sprinklers can help eliminate home fire deaths, but that legislative barriers and a general unawareness of the technology have prevented its use in new homes.
The Fire Sprinkler Initiative, a project of the NFPA and the HFSC, is co-hosting Home Fire Sprinkler Week, a North America-wide virtual effort to show the value of home fire sprinklers from May 17-23.
"Previously, public demonstrations to show the speed of home fires and the powerful protection of home fire sprinklers were the centerpiece of this week, attracting large crowds all over the country," NFPA Vice President of Outreach and Advocacy and HFSC President Lorraine Carli said in a statement. "But life is very different today with the fire service at the front lines of the COVID-19 pandemic. And as public gatherings are inadvisable, this year we are acknowledging social distancing and simplifying fire service participation by providing a varied digital platform to flood the Internet with facts and messages of life safety."
Throughout the week, fire departments and other public safety advocates across the U.S. can access digital content at the Home Fire Sprinkler Week Website and encourage their audiences to read and share daily messaging. The NFPA and HFSC will post home fire sprinkler videos, graphics and other information on their websites, through social media and via local news outlets.
On May 20, the NFPA and HFSC will host a Facebook Live event at 11 a.m. EST/10 a.m. CST featuring a video of two identical home fires with different outcomes. Viewers will be able to compare fire growth, spread and damage with and without fire sprinklers. The event will include remarks from U.S. Fire Administrator Chief Keith Bryant, International Association of Fire Chiefs (IAFC) President Chief Gary Ludwig and NFPA President Jim Pauley.
Fire Chief Marc Bashoor, FireRescue1's executive editor, encouraged public safety agencies to share the campaign with their communities.
"While our news has continued to be consumed by the COVID-19 pandemic, home fires continue to ravage the United States. According to the USFA, at least 932 people have already died in residential fires already this year. As fire chiefs and stewards of the public trust, we must continue to find ways to keep our communities safe, through activities such as Home Fire Sprinkler Week," Bashoor said. "While many communities across the United States have enacted residential fire sprinkler requirements, these needless deaths remind us how poignantly clear it is that we have much more work to do!"
Each year, home fires cause eight of every 10 fire deaths and seven of 10 fire injuries, according to the NFPA, and fire sprinklers are proven to keep home fires small, preventing injuries, deaths and limiting property damage.
All national model fire codes require sprinklers in new construction, but their installation in one- and two-family homes lags behind other occupancies, the association reports. Home Fire Sprinkler Week seeks to underscore the home fire problem and raise awareness of the availability of life-saving fire sprinklers for new homes. 
"My experience with residential sprinklers in Prince George's County Maryland confirms that nearly 100% of 2020's home fire deaths could have been prevented had residential sprinklers been installed," Bashoor said. "I urge you to do your part to spread the lifesaving messages that will be delivered virtually through this NFPA program week."
Free resources for the virtual campaign can be found on the Home Fire Sprinkler Week webpage.