We're not the enemy: How to rebuild public trust during times of crisis
Fire service leaders face a new challenge in being deemed 'guilty by association' during recent national emergencies
---
Chaos manifests in many forms.
Short of the immediate aftermath of September 11, I don't believe that fire chiefs have experienced a more profoundly challenging time than we are experiencing in 2020. The combination of the COVID-19 pandemic response, plus the national protests and riots after the tragic George Floyd death, haven proven more challenging every day.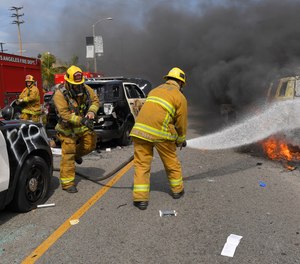 Of course, the chaotic times immediately following September 11th were different. The physical response was pretty much an "enemy" we knew – in its simplest terms, that being response to fire and injury. The challenges we faced were more about the unknown of "what's coming next" or rooted the personal leadership challenges that the anthrax scare and other terrorist events and paranoia unleashed on our local fire departments and communities.
With a groundswell of support for public safety after 343 firefighters and 64 police officers perished in the Twin Towers, firefighters rode high in public sentiment, as citizens everywhere saw so many of them make the ultimate sacrifice in an effort to save others.
Chaos today
The current response to the COVID-19 pandemic and the spreading civil unrest brought on by the death of George Floyd at the knee of a now-former Minneapolis police officer have expanded the challenge for fire chiefs across the country.
We have witnessed in the coronavirus response a similar groundswell of appreciation, mostly for EMS and healthcare workers. However, with the more recent attacks on fire and EMS personnel and equipment during the civil unrest, it seems in some areas that groundswell of support has reversed and become a pit of negativity. Compounding all of that negativity is a new factor that none of us could have predicted in 2001 – the social media beast that has risen to consume so much of our lives.
As politics grows increasingly inflammatory, I have encouraged people to simply "back away from the keyboard" (BAFTK). BAFTK is simple in its acronym form but harder in its execution, particularly as some cite the First Amendment of the Constitution as protecting their freedom of speech.  
We cannot become the enemy
The fire service has historically had a strong, positive commonality of mission and culture – to help others in their time of need. Everyone likes the fire department, right?
One example: During a particular rough patch with homicides in the county, my county executive said in a meeting, "I don't know what it is, but every time someone gets shot, I get phone call after phone call blaming the police department for not doing their job … but every time we burn a house down, I get nothing but praise for the fire department."
It is our strong, positive culture that has always endeared firefighters to our communities in a way that has not been a consistent view of the police. But now, it seems that in an instant, that praise has started to fade, as we are deemed "guilty by association" with our brothers in blue.
As a result, some protesters have displayed outright anger and violence toward fire and EMS personnel. While this is not the case in most areas, many first responders are now on high alert during responses to demonstrations, protests and riots – and even unrelated calls – as they are aware of incidents in which crowds have turned on their brothers and sisters. Note: Whether you agree or disagree with the protests, your core mission of service must not be impacted. (Read Ben Thompson's take "Putting anger aside: Firefighters help everyone, even those setting fires.") You must continue to follow your mission of service, and I urge you to BAFTK before spilling your frustration into the public arena.
In the law enforcement community, it seems widely accepted that a small number of "bad apples" have left the impression with some that all officers are bad. The fire service cannot allow a few of our own "bad apples" to spoil the bushel. We do ourselves no good if we spread arguments or the notions of hate in social media posts. We cannot allow ourselves to become "the enemy."
I lean back to my county executive's notion that all he ever heard was praise for the fire service. How do we make sure we continue to maintain our place of praise within the community? That question requires a bit of critical analysis.
Critical thinking is key to evolution
A sorely lacking skill for many in the fire service (and elsewhere) is critical thinking.
We should be encouraging and developing thought-leaders who have the maturity and leadership capacity to think beyond "what's for dinner tonight?" The crux of leadership is much more complex and evolutionary than simply taking classes, gaining certifications or attaining degrees.
Studying and learning from that which causes revolution as well as evolution is one of the greatest leadership challenges of the 21st century.
In my article "Want to be a thought leader? Develop your critical-thinking skills," I encouraged you to be an architect of evolution – certainly not merely a student of revolution. We must learn to pause and consider our responses before simply blurting out our first thoughts, and take time to think through solutions instead of simply following the path of least resistance.
Building (or re-building) the public trust
The public has always trusted us during their darkest moments. Maintaining that trust will not require much out-of-the-box thinking, as long as you're already a community-based fire protection department.
So how do we maintain – or restore – the public's trust? Here are some thoughts to help guide your conscience and your actions through these times:
Deliver service with respect and dignity, even if it's not given in return.
Make sure you are delivering uniform levels of service to every home/business, and if you're not, change policy, training, supervision and training, or discipline until you are delivering such service.
While respecting COVID-19 restrictions and precautions, get out of the station and out of the truck to engage in prevention, education, outreach – from a distance.
Emphasize your strengths and your services; deemphasize your opinions and your politics.
Smile more, talk less and, once again, BAFTK.
The public trust is rooted in the idea that firefighters are not only held to a higher standard, but also expected to perform at a higher level, both in terms of performance and accountability.
Understanding the public trust is part and parcel to understanding your local politics. I remain firmly convinced that chiefs and their departments will be better off when they are participants in the political process, always being a part of the solutions to public safety issues in their communities. Whether it's budget deliberations or discussion about public safety interaction within the community, and whether you like it or not, YOU are part of the political machine that will be part of the community solution.
Regardless of whether you consider yourself a politician, you are the messenger to whom, still today, most people trust and listen.
Here are a few tips to help to continue building the strong common messages of hope and aspiration, instead of those of hate and desperation:
Never shy away from a valid fire service question, yet never offer an uneducated opinion nor an angry response.
Don't feed the beasts of intimidation and fear.
Coordinate your public messaging through a common set of protocols and mediums. (Twitter was thee social platform for Prince George's County, Maryland, yet largely unheard of for the Highlands County, Florida, community, which relies more on Facebook.)
Do what's right, when it's right – not just what and when it's convenient.
The buck stops with you
The badge you wear, the oath you take and the trust you represent are merely the manifestation of societal ideals. More importantly, that badge, the oath and the trust represent ALL people, not just the sanctity of law for those who wear the badge or take the oath.
As chiefs, the buck does stop with you. It is critical to remember that beyond the inspiring rescues, the stories of bravado and the dangers of the job, the audacity of the badge requires bold and daring acts of fortitude and bravery, not the arrogance and dismissiveness perceived as being above the law!