Rapid Response: 'Be prepared to go defensive'
Fire erupts at new Florida warehouse not yet preplanned by fire department
---
What happened: On April 29, 2019, at about 2:15 p.m., 911 calls began to flood the Highlands County, Florida, 911 center, reporting a warehouse fire on Highway 27 south of the City of Sebring. The location is 3.5 miles south of Highlands County Fire Rescue headquarters, where the management team – myself included as the fire chief – was gathered for our weekly staff meeting.
I was the first-arriving unit, reporting a 100-by-50-foot propane storage yard warehouse, with fire showing from side Charlie. A medic unit and the EMS chief arrived at the same time, and were immediately met by a burn victim. That burn victim told responders he was the only injury and the only worker at the plant at the time. He did not know what had happened. He was burned extensively and medivaced to a burn center in serious condition.
The facility sits on Twitty Road, just off of Highway 27. It is tucked up against a small wooded area next to an orange grove, proving difficult to safely perform a 360. I drove past the building while the others set up at Highway 27.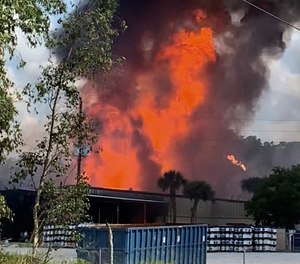 The operations chief and chief deputy arrived next.
With the entire management team on the scene before a fire engine, direction was given to locate a hydrant other than the one directly in front of the building, and to begin developing an operational plan. It was quickly determined that the hydrant system in question would likely supply no more than 500 gpm, and that sufficient water resources would not be on site quickly to mount an immediate attack.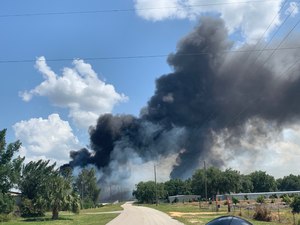 The Highlands County Sheriff's Office had already begun evacuation of a small trailer park and veterinary clinic across the street from the propane facility.
The initial fire department dispatch brought units from Desoto City Stations 18 and 19 and Leisure Lakes Stations 29 and 30. Additional units were called from West Sebring Stations 9 and 10, the City of Sebring Station 15, and the Avon Park Bombing Range Station 1.
With the fire quickly escalating and an untold number of tanks begins to vent, a half-mile evacuation was ordered. The 911 Center activated a reverse-911 notification, and the Sheriff's Office went door to door at a trailer park on Twitty Road to the north.
The facility stored and refurbished thousands of 20-pound propane cylinders, like you would expect on an outdoor grill. There were tractor-trailer-sized pallet-packeted stacks with full cylinders, surrounding by thousands of other tanks as well as the main 18,000-pound. supply tank. The facility was relatively new and had not been formally preplanned by the new fire department.
The venting cylinders quickly added fuel to the fire, resulting in many explosions that rocked the neighborhood. Cylinders were flying through the air, some parts flying nearly a quarter-mile away and landing in the travel lanes on Highway 27.
The trailers across the street began to ignite, a result of projectile cylinders and thermal column embers. Brush fires began to erupt a half-mile away, on the other side of Highway 27, along Lake Josephine. Units from Stations 30 and 10, along with the Florida Forest Service, were assigned to work those fires.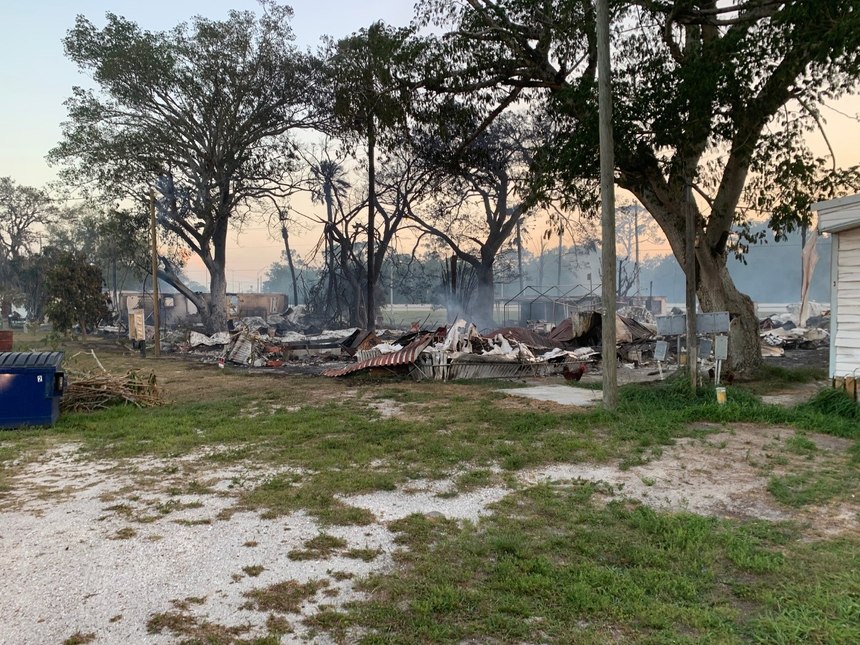 The trailers were still burning, one by one, until we ultimately lost 17 of them.
Several hours in, with the fire beginning to die down, a crew from Station 19 was sent to extinguish the last line of defense for the veterinary clinic – a burning vinyl fence.
Additional video, at 14 seconds, you'll see a small propane tank explode 100' in the air and land on the left side of the lot - initial HCFR Command post video

Posted by Highlands County Fire Rescue on Monday, April 29, 2019
Fearing a boiling liquid expanding vapor explosion (BLEVE) of the large tank, with tank parts landing a quarter-mile away and brush fires breaking out over a half-mile away, the evacuation was extended to 1 mile. Two evacuation centers were opened, one north and one south of the incident. More than 50 people would seek shelter before the full evacuation was lifted by 8 p.m.
The Sheriff's Office drone was dispatched to establish visibility. No emergency-response-based aircraft exist in Highlands County. The drone was used for hours to monitor the large tank, the spreading brush fire, and the trailers across the street.
The entire facility, 17 trailers and a couple acres of brush would be lost before it was over. Fortunately, the large tank remained intact, and the veterinary clinic was saved.
EMS units were retrieving medication for evacuees before the evacuation was drawn back. Highway 27 and all but the immediate area was reopened by 8 p.m.
Firefighters and Sheriff's Office personnel remained on the scene overnight, with the Fire Marshal's Office returning at 8 a.m.
Fire department rehab was provided through Logistics at three sites – the south operations section, the north Command Post, and the west brush assignment. There were no fire department injuries.
Why it's significant: Facilities like this litter America's landscape. It is critical that personnel become familiar with such facilities and plan accordingly. Target hazard buildings need preplanning sooner than later, with special attention to water supply and various operational postures.
Key takeaways: Community awareness of hazardous locations is critical. Pre-engagement with the community is a must, and reverse-911 technology and local radio is priceless to get the word out quick. Work with your community on "quick evac" plans – an emergency stash of medicines, emergency numbers and other essentials that are ready to go if firefighters or law enforcement knocks on the door.
Drones play an increasingly valuable role in the fire service mission. If you have them, get them to your scenes quickly. The extra set of eyes is valuable for command-and-control decision-making. Picture and thermal imaging cameras (TICs) along with air-monitoring equipment provides priceless alternatives to human intervention in those early stages.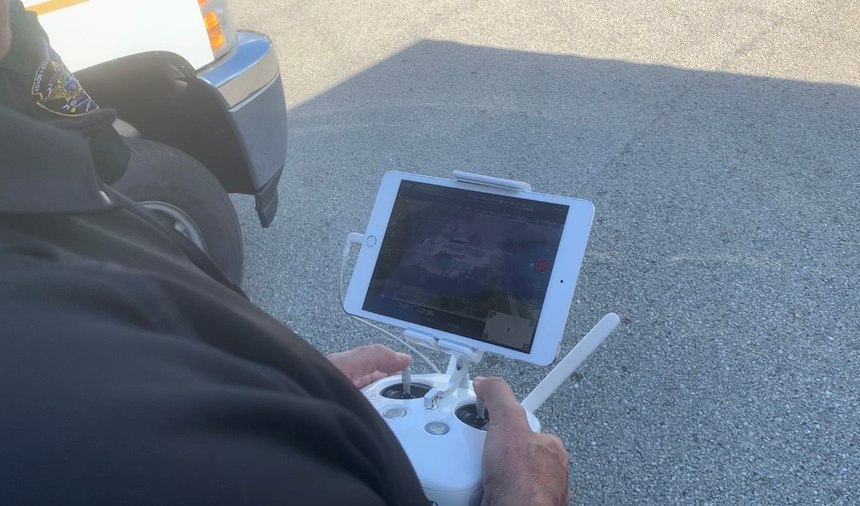 Feed the media beast! As difficult as it may be, I choose to keep the media as my friend, because they sure can become your worst enemy if you let them. Provide official social media updates and scheduled media releases during large-scale extended events.
Be prepared to go defensive and back up. Sometimes evacuations aren't just for the public! Firefighters, fire trucks and missile-propane tanks don't mix well. Sometimes the venerable "isolate and deny entry" is the best policy.